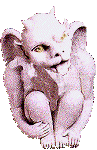 My Favorite Websites
First we have MSN Zone, the coolest games site on the internet for Age of Empires II
Next we have Age Of Kings - The Blacksmith, the ultimate download site for all Age of Empires II players. If your after maps, sounds, news and more then this site is a must. Rated 10/10 by the Dodgerman.
This next site is the one I owe my Web page design too, if your after cool looking icons, backgrounds and more then you can't go far wrong than to look at Castle.
Another games site that I will mention is Heat, I have not tried it myself but you my wish to give it a spin.
This is my all time favorite Themes site, if your bored with your desktop then look no further.
Themes Unlimited, for Desktop themes, screensavers, skins, and utilities
And last but not least is hot bar, this is a cool site for changing that boring old task bar with cool pictures.
Hotbar.com - Your Personal Dynamic Toolbar.


back to Welcome Page

On to My Download Page